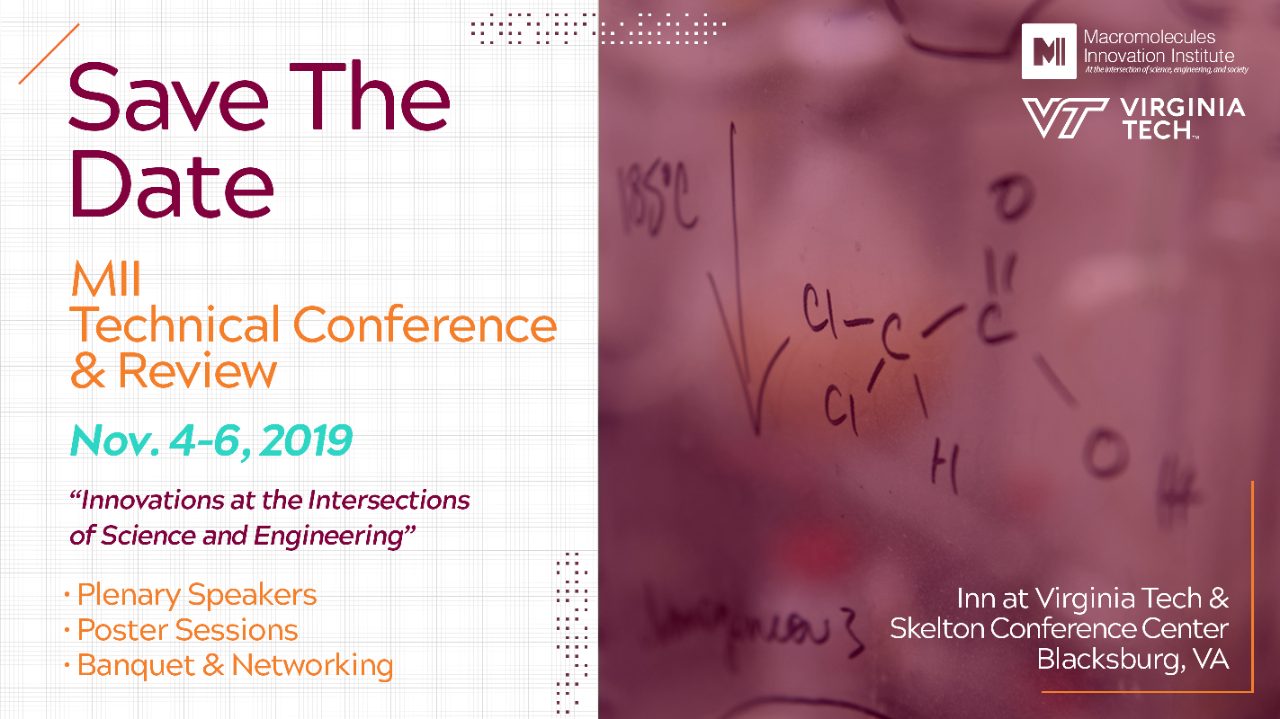 MII organizes a technical conference and review meeting on the Virginia Tech campus to provide an opportunity for scientists and engineers from industry and government to learn about the activities of MII through faculty presentations and student posters. There are also opportunities to learn new aspects of the integrated research and education programs at Virginia Tech to form partnerships with faculty and graduate/undergraduate students associated with the Institute.
November 4-6, 2019
Stay tuned for details on registration and plenary speakers.
If you are a Virginia-based company and interested in attending the conference, 

please contact MII at mii@vt.edu for more information!
SAVE $50.00 by registering before October 4, 2019!
Conference Registration
Registration for the MII Conference will begin Monday, November 4, 2019, from 11:00 AM-1:00 PM. The meeting will begin at 1:00 PM on Monday and will conclude at 5:00 PM on Wednesday. The registration fee ($350.00 before 10/4/19; $400.00 after 10/4/19) includes attendance at the technical meeting, all receptions and breaks, banquet, and the meeting proceedings. Registration will be open by the beginning of fall.
*If you are a Virginia Tech faculty member or student, please email mii@vt.edu for registration instructions.
Venue
The Holtzman Alumni Center is home to the Virginia Tech Alumni Association. The Inn at Virginia Tech and Skelton Conference Center are adjacent to the Holtzman Alumni Center.
Hotel Accommodations
The Inn at Virginia Tech and Skelton Conference Center
901 Prices Fork Road
Blacksburg, VA 24061
Phone: (540) 231-8000 or (877) 200-3360; Fax: (540) 231-0146
The block of rooms at the Inn at Virginia Tech are only being held until October 3, so please make reservations for your hotel room accordingly – reserve your room today!
For further information on this or future programs, contact MII by phone at (540) 231-3704 or by e-mail at mii@vt.edu.